Our Commitment
to minnesota Communities
COMMITMENT TO OUR Smith Schafer TEAM.
Smith Schafer is very proud of our team's involvement in their communities. Our leadership encourages staff to dedicate their time and talents to give back to their community. We offer programs to inspire an environment of learning, giving and supporting.
Commitment Example: Every year, we organize a fundraiser for our staff to give back to the local United Way. Team members participate in an array of events to raise money, such as a chili cook-off, bingo, photo guessing contests and so much more! Our 2018 United Way campaign raised $19,702!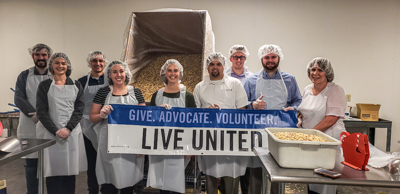 "Alone, we can do so little; together, we can do so much" – Helen Keller
COMMITMENT TO OUR WORLD.
Smith Schafer strives to be a paperless firm and other green initiatives drive us towards greater efficiency and awareness in our operations.
COMMITMENT TO OUR local Minnesota COMMUNITies.
Smith Schafer has a fundamental dedication to giving back and supporting local causes. From our Principals to our young professionals, our culture encourages staff to be ACTIVE in the community. We all make an effort to give back to our local Minnesota communities through nonprofit board involvement, event sponsorships, fundraising campaigns and much more!
COMMITMENT TO OUR CLIENTS.
Smith Schafer strives to show our appreciation and dedication year-round to our clients. 
"When it comes to client relationships, Smith Schafer's belief has always been, shop with clients who do business with us," Managing Principal, Steve Erchul, stated.
To encourage our employees to honor this motto, we created the Client Loyalty Program. The purpose of the program is to actively encourage staff to purchase goods and services from clients and to reward them for doing so. Each month, our staff members submit their receipts in order to receive an entry into a prize drawing. The more times they choose to shop with our clients, the more times they are entered into the drawing. One winner is chosen every month and receives a Visa gift card.
We are excited to report that in 2018, our staff has spent over $213,772 with our clients!
Minnesota ORGANIZATIONS SMITH SCHAFER DONATES TIME & Money To:
Chamber of Commerces
Community Schools

Smith Schafer is honored to be alongside other Minnesota companies as part of the Minnesota Keystone Program.
The Minnesota Keystone Program recognizes and honors companies that donate at least 2 percent of their pre-tax earnings to the community.