Software to help save your business time and money
Are you busy with day-to-day tasks and tend to procrastinate tracking expenses? Are you asking yourself, "why is it important to track expenses in a timely fashion?" Tracking expenses provides you with financial awareness and insight on spending habits, making your life easier come tax season. In addition, if you are audited by the IRS or the State, you will have proper records to verify your deductions on your return.
Sorting through receipts is time consuming. Using software to track your expenses will SAVE YOU TIME AND MONEY, while allowing your business to operate more efficiently. There are numerous applications (apps) to help you easily track expenses and receipts so we have compiled a list of our top five favorites. We have seen these make a big difference in our clients lives!
1. Expensify
Price: Starting at $4.99/month
Having a vast array of features and extensive automation capabilities, Expensify is easily the best expense tracker in our opinion. From expense report management to tracking receipts, Expensify eliminates manual data entry. You simply take a picture of the receipt and details such as merchant, date and price, and they are automatically coded for faster reimbursement.
Mileage tracker is also included in the mix.
This app makes is easy for businesses to automatically review and approve expenses quickly.
2. Foreceipt
Price: Free
If you want to go paperless tracking receipts, Foreceipt is one of the best apps out there. The cloud-based receipt-capturing app (it uses Google Drive) enables you to securely capture each receipt for all business expenses accrued.
Foreceipt has features embedded into the platform, making it an efficient choice for businesses. For example, it allows you to establish budgeting categories, so you can track the types of expenses you or your employees are incurring. It also has a built-in exchange tracker, which allows you to input expenses in any currency.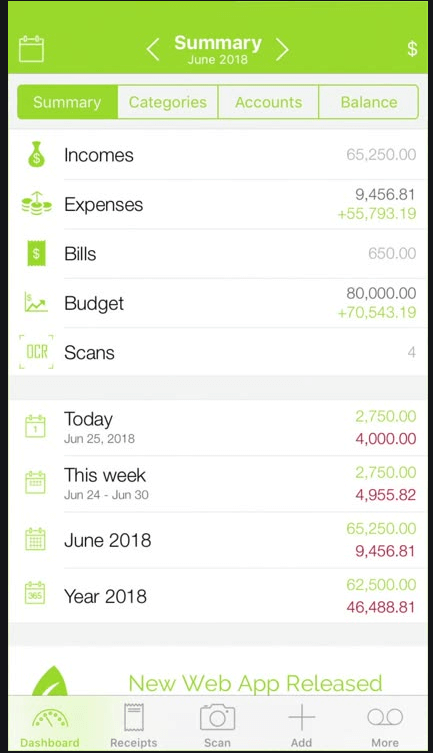 3. QuickBooks
Price: Starting at $12/month
QuickBooks is a great tool to handle all your business' finances. Once you connect your credit card account to QuickBooks, scan your receipts with your phone and load them into a mobile app for receipt management. QuickBooks will automatically match the receipts with the existing transaction.
QuickBooks also now has the capability to track mileage.
4. Shoeboxed
Price: Starting at $29/month
Shoeboxed allows business travelers to rapidly capture and categorize business expenses. This app makes it easy for businesses to verify these expenses in real-time.
Shoeboxed's powerful receipt tracking system makes it easy for your accountant to categorize your expenses which will help come tax season. Less time = less money.
Unlike many receipt-tracking apps, Shoeboxed enables users to capture business cards and transform them into an easily accessible digital contacts list.
5. Mint
Price: Free
Mint is a simple tool for smaller businesses to track where money is going.
It enables you to create budgets and goals within the app.
The app is user-friendly and gives you a nice snapshot of how much you spend on each expense category monthly or yearly. You can assess where you are spending your money and where you can possibly save money.
Another plus when using the Mint app is you are able to set up reminders for large purchases and bills.
Questions?
Running your business goes smoother and profits stay higher with the right expense tracking tool. Smith Schafer can help you choose the right tool for your business and guide you through the implementation.