We are proud to announce we have been named one of the FASTEST-GROWING ACCOUNTING FIRMS in the U.S. by The Platt Group/Inside Public Accounting. We rank 2nd in the Great Plains region with a 29.8 percent all growth rate! This marks the first year in which we have received this recognition.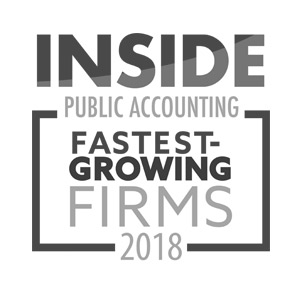 "Our growth since 1971, is a testament to our longstanding technical excellence, passion to serve our clients and dedication to our internal culture. This achievement would not be possible without our talented staff, who are committed every day to making a positive impact in our business and helping our clients grow. This awards would also not be possible without our incredible clients. The growth we have achieved is exciting and we sincerely appreciate everyone who has helped us earn this recognition!" 

-Managing Principal, Steve Erchul
The Fastest All-Growth firms are ranked by the change in a firm's net revenue from the previous reporting year, and includes both organic and revenue growth from mergers. The rankings are compiled by analyzing the more than 550 responses received this year for IPA's Survey and Analysis of Firms. Firm leaders have trusted IPA with their firms' financial and operational data for more than 30 years to compile one of the longest-running, most comprehensive benchmarking reports within the profession.